This morning, I wake up with a shocking news. A Tsunami (8.9 on the Richter scale) hits the Southern Asia region. According to the news, this the most powerful earthquake in 40 years . Malaysia is also affected by it. In Malaysia, more than 30 people killed and it includes children too. The most affected state in Malaysia is Penang. (One of my best friend stayed in Penang and I was informed that her area is not affected. Thank god for it.) I'm saddened by the news. Even though Malaysia are not badly affected, our neighbours Indonesia, Thailand & Sri Lanka are badly affected. My condolences to them and those affected by this Tsunami. This news really shocked me. Our country is the most stable country in the region and it is affected too, I can't imagine how its destroyed our neighbours. My deepest condolences to those who lost their loves ones in this tragedy. A really bad tragedy to end the year.
Well, back to some not so sad happenings, I spent my Chritsmas crocheting at home. This is my first attempt on crocheting a sweater. Here it is.....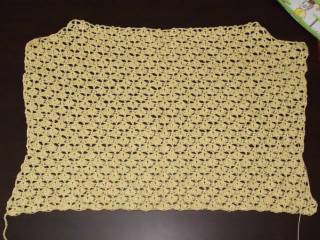 It looks a bit on the large side. I'm not really sure whether it will fit me. Since crochet is not stretchable like knitting, I hope that this will fit me. Actually, I already frog out my previous attempt, cause it is way too small, so on this attempt I add in another 4 motifs. (I'm not so sure whether this sweater is going to happen, cause if I finish one side and not up to my liking, I might just frog it out again)
Oh yes, I got some Christmas pressies, its some Cotton Heirloom yarn that I ordered from Ozeyarn in Australia. There you are..... (all in pastel colours).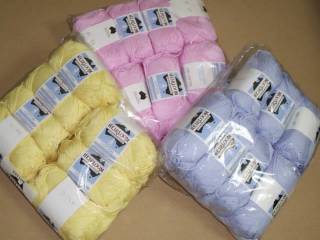 I've got to go for now, I have to settle some business for my boss before he goes for holiday tomorrow (I'm posting this in the office). Till then, wish me GOOD LUCK on my crocheting.