I took a day off yesterday for my ENT Follow-Up Consultation and to run some personal errands. Gosh, time really passes by fast. I woke up as usual at about, did some usual house work and off to the hospital. You know, when you need to seek consultation in a Government Hospital, you ought to be early. I reached the hospital at about 8.00am, waited 2 hours for my turn and another half and hour for dispensing of medication. Long yah, thats what I do every 4 or 6 months as I need to consult that particular ENT specialist. Not that I can't seek consultation from some other private doctor but it seems only with this ENT specialist my problem will solve. So guess, I have to be very patient every 4 or 6 months to seek medication.
After that, run a few errands and off to home at about 1.00pm as I got appointment with the Curtain Installer. Yah, you heard me right. Not that I shifted to another new house. Its just what we call it UPGRADING, lol. When first moving in, we only do some basic stuff. DH always says do just what we needed which I always disagree. For me, I rather do everything before moving in to avoid any problem later on. So, basically previously we just install normal curtain tracks (got it from IKEA) which we install it ourselves.

I waited for the installer, for almost 2 hours. This is really what we call MALAYSIAN TIME MANAGEMENT. Guess yesterday is really a WAITING DAY for me. Anyhow, I was quite surprise, the installer managed to install everything in 45minutes. Thats fast.

So see the transformation, this is only the Living. Couldnt post the photo in the bedrooms, cos the camera out of battery.


TO
On knitting, I have managed to finish knitting ORANGINA, no photos yet as I need to charge the battery. So, me off to another project, havent started yet but I'm planning this, its the BIAS from the IK Spring 2005 issue.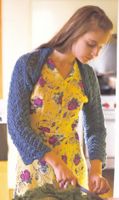 Hope to get started soon.