Well, I have been a bad girl, starting another project before the other WIP are done yet. I just can't resist the temptation of knitting myself the UO Shrug after seeing Vanessa's version. Well this is my version. Its knitted with a DK cotton. Normally I seldom did a swatch, but for UO shrug I have to swatch for the gauge almost 4 or 5 times and froggin about twice. I can't seem to get the right gauge. At least the outcome is not that bad I hope.



Its pretty heavy though, about 350g as I used up almost 7 balls of it (especially on the colar its really warm). Guess this outfit I can only wear it in the office. For my version I've used a brooch to decorate it. Any idea, does it look nice with the brooch there? I got myself some other brooch too. Which one do you think suits better?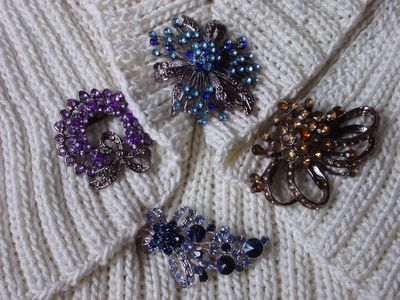 Well before I go, here is UO and Me.
Happy Mooncake Festival .